FatPipe offers state of the art Router Clustering technology, to support WAN infrastructure with advanced levels of reliability, redundancy, dynamic load balancing, enhanced security features and to top it all, it is compatible to IP traffic using all types of WAN's.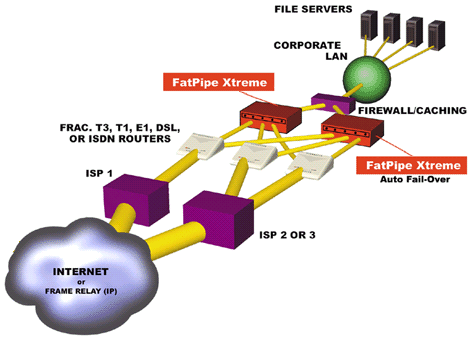 FatPipe router-clustering devices enable aggregation using any type of lines such as Fiber, Wireless, Cable, E3, E1, DSL, and DS3. The compatibility of FatPipe router-clustering devices with any type of WAN reduces multiplicity of equipment and therefore, reduces capital costs.
The FatPipe router-clustering, device aggregates routers and has the highest level of reliability and, redundancy with high speeds of data transfer. The technology uses two or more Internet connections optimally by using dynamic load balancing. Should one of the connections fail, the device will seamlessly transfer the data through the working lines, without loss of data or downtime, and automatically balances the load in the new environment. The FatPipe route-clustering devices are ideal for 'mission critical' servers of a business.
Since optimization of the WAN depends on dynamic load balancing, FatPipe router-clustering devices continuously and automatically analyze and balances the load across the network in real time. The FatPipe router-cluster device dynamically balances the load with either premise or Internet based VPN. This enables a business to aggregate multiple networks, both public and private, without the need of additional equipment at the provider's site.
The router-clustering device has been designed to work with any type of network to ensure that system downtime is non-existent or negligible, irrespective of the router, ISP line or hardware failures.
The FatPipe router-clustering device helps achieve the following in the entire system:
Reliability and Self-healing – Since large volumes of data are transferred in a fraction of a second, even a down-time of a short duration could mean the loss of millions of dollars. It is essential that the system should be highly reliable and designed to be self-healing.
Growth of Traffic – Even though the internet traffic almost doubles every year, the FatPipe router-clustering device can handle the increased volume of traffic with ease.
Multiple types of Services –Though the WAN handles multiple kinds of services such as voice, data transfer etc., FatPipe router-clustering device seamlessly handles all type of data easily.
Ultra large capacity cluster – The router-clustering device can easily handle large capacity clusters without loss of efficiency and reliability.
Intellectual property rights – The FatPipe router-clustering device has been developed in-house and FatPipe has patent and patent-pending proprietary rights over the technology.